Step aside sad fruit salads and lemon sorbet lacking any zing… The time of luxurious and decadent vegan desserts has arrived. Camden is quickly becoming a vegan 'go-to' for food lovers, with brands such as Temple of Seitan, Rudy's Dirty Vegan Diner and of course, What the Pitta, taking up residence.
So for those of you who enjoy a sweet treat and find yourself in the Camden area, we have put together a round-up of our favourite vegan desserts to get your teeth into.
The Chocolate Pizza
Yes, you heard that right – a chocolate pizza. We don't know why these aren't more widely available because they are one of the most delicious desserts in existence. Purezza make their pizzas with organic 'type 2' wholegrain flour and the dough is left to mature for a minimum of 48 hours. The resulting flavour is magnificent. They top the pizza with crumbled cacao flakes and their own creamy hazelnut chocolate spread.
Save room for this one, it's worth the indulgence.
Where can you find it? Purezza
Address: 45-47 Parkway, Camden, NW1 7PN
'Honey' Sponge Cake
A newer addition to the Camden Market scene, Nora and Nama run an artisan vegan bakery serving a gorgeous selection of cakes, chocolates and cookies.
Their standout is a traditional seven layer Russian cake called Medovik (or honey cake). Every one of the seven delicate layers is hand-made and filled with a soft cream filling and topped with cookie crumbs. It's delicate flavour comes from the vegan 'honey' they use throughout this impressive confection.
Where can you find it? Nora and Nama
Address: Unit 596-598, Camden Lock, London, NW1 8AF
Caramel Cheesecake 
If you're a vegetarian or vegan in London, we know you will be very familiar with changemakers, Mildreds. They have been around since nut roast and mushroom soup were the height of vegetarian eating.
Our personal favourite item on the dessert menu at Mildreds is the creamy caramel cheesecake. It's topped with biscoff crumb and a rich blackberry coulis to balance the sweetness of the caramel. It's the perfect way to finish off your meal at this iconic and vibrant restaurant.
Where can you find it? Mildreds
Address: 9 Jamestown Road, London, NW1 7BW
Griddled Cookie Dough with Nitro Ice Cream
If you feel happy spending your money somewhere that isn't fully vegan, then you must visit Chin Chin Labs. A few doors down from Young Vegans in the Market, their Camden location is the OG shop. Their ice cream is hand churned using liquid nitrogen and they only serve a small selection of innovative flavours.
To make the most of your visit, we recommend their vegan griddled cookie dough – a gooey half baked chocolate chip cookie. You can then choose to top it with one of their vegan ice cream flavours such as Pandan Leaf or Mango Lassi. For the ultimate indulgence, add pistachio and cardamom powder or fresh raspberry sauce (or both!).
Where can you find it? Chin Chin Labs
Address: 49-50 Camden Lock Pl, Camden Town, London NW1 8AF
Vegan Baklava One Of Best Vegan Dessert In Camden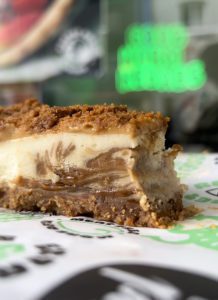 If you have ever tried baklava, you know how addictive it is. Usually made with honey, it's hard to find a vegan variant of this sweet delicacy. Luckily, we've come to the rescue with our very own version of this Middle Eastern gem.
If you pick up one of our homemade baklavas to eat after your kebab and you won't be disappointed. Layers of crisp, buttery pastry filled with a crushed almond centre and soaked in sweet amber syrup.
Where can you find it? What the Pitta
Address: 89-91 Bayham Street, NW1 0AG