If you ask a London-based vegan where to head for delicious plant-based food, Shoreditch will be high on their list of locations. A hub for vegan businesses, trendy Shoreditch has a huge variety of vegan restaurants for you to visit and feast upon.
Here are some of our favourite vegan restaurants in Shoreditch:
Got a craving for a Vietnamese iced coffee, fluffy bao buns or bibimbap? Head to Eat Chay in Boxpark. You can find them on the first floor of the park, where they serve up dishes like kimchi ramen, fried chick'n sandos and seaweed salted fries
Once you've got your food, it's time to find a seat. Open-plan box park has a great vibe, often with DJs or live music to enjoy. This is a great place to grab a beer and feast with friends on a Saturday afternoon.
Address: First Floor, Boxpark Shoreditch, E1 6GY
A recent addition to the Shoreditch line up, pizza pioneers, Picky Wops have opened their first solo location on Brick Lane.
When you visit Picky Wops, you can choose from a selection of unique pizza doughs including turmeric and multigrain. What sets them apart is the high-quality ingredients that go into their plant based dishes. Even if pizza isn't your style, they have a delectable selection of pasta dishes to choose from, plus indulgent Italian desserts.
If you're looking to chow down on ethical, award-winning pizza, Picky Wops is for you.
Address: 53 Brick Lane, London E1 6PU
When someone says 'great vegan junk food', we think of The Vurger Co. These guys are revolutionising fast food through the power of plants and have set up shop in a beautiful space in the centre of Shoreditch. Choose from veggie-based or Beyond Meat patties loaded with crispy onions, vegan cheese and house-made burger sauce.
You can wash it all down with a creamy vegan milkshake, which comes in seven delicious flavours including Biscoff and Banana Caramel.
Address: Unit 9, Avant Garde Building, 6 Richmix Square, Cygnet Street, Shoreditch, London E1 6LD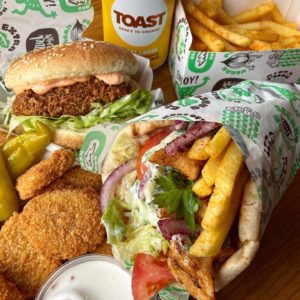 Of course, we couldn't finish this list without including our own iconic kebabs…
If you're in Shoreditch, you can find us along with our friends Eat Chay on the first floor of Boxpark. We provide a meat-free twist on the classic British Kebab and, what's more, we were the Winner of the 'Best London Takeaway' for the Kebab Awards 2020!
So come and treat yourself to our homemade vegan doner kebabs or our vegan doner kebab box with chips laden with pickled peppers, lettuce, hummus and tzatziki. Follow it up with a sugar rush of homemade, syrup soaked vegan baklava.
Address: Unit 52 Boxpark Shoreditch, 2-10 Bethnal Green Rd, Hackney, London E1 6GY
Blog Image by Kerstin Herrmann from Pixabay