Even though the UK has had to lock-down for the second time this year, we've been in good spirits at What The Pitta HQ. We've still been supplying our delicious vegan food to our hungry takeaway customers across London and Brighton, AND we have a few pieces of brilliant news that we're excited to share with you: vegan kebabs in Manchester!
Delivering the plant-based joy: Vegan Kebabs Manchester
Earlier this month, Deliveroo announced that they'd seen a 115% growth in their customers ordering vegan meals since World Vegan Day 2019. And their 'Plant-Based' category continues to be the fastest growing part of their delivery offering.
And guess what? Our vegan döner has been named in the Top 5 most popular dishes ordered through Deliveroo in the past month! In fact it was the second most popular dish ordered through Deliveroo in Brighton. We know the vegan scene in Brighton is absolutely thriving, and we're so proud to be a part of that community.
If that wasn't exciting enough, we've also been shortlisted for this year's Deliveroo Awards in the Best Vegan Offering category for the second year running! The winners will be announced in December, so keep your fingers crossed for us.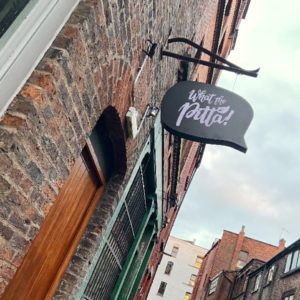 We've placed in the Top 20 at the BRAVOs 
This has been a very exciting autumn for What The Pitta. Not only have we been shortlisted in the Deliveroo awards, we have also placed in the Top 20 Plant-Based restaurants by this year's Brighton Restaurant Awards! They had a record number of people vote in this year's awards and there were more than 470 venues competing. The Plant Champions category is for restaurants who are elevating vegan and vegetarian food to the next level. That's what we're all about at What The Pitta, so we're very proud to have been recognised by the BRAVOs.
We're coming up north!
We've already brought the joy of vegan döners to Brighton, Croydon, Shoreditch, Battersea and Camden… and now we're coming to Manchester! You'll be able to find us very soon in the Northern Quarter. 
We've started building work on our new Manchester home, and we're on course to open early January 2021 – ready for Veganuary! Get the date in your diary, we can't wait to see you then.