When it comes to Vegan Kebab, the sauce is a crucial ingredient that can bring the meal to a whole new level and create an absolutely delicious feast. In this article, we will take a closer look at what are the best vegan kebab sauces, why they are an essential part of any kebab and which kebab shops have chilli sauce and the others on this list.
Let's begin!
The 5 Best Sauces For Vegan Kebab:
Tzatziki 
Tzatziki is a delicious fresh sauce to add to your kebab, traditionally made with yogurt, cucumber, garlic, salt, oil, herbs, lemon juice, or vinegar. 
What The Pitta's tzatziki sauce is made with a plant-based yogurt, which is 100% plant-based, but we promise you that you won't even realize it!
Tzatziki is a fantastic healthy spread option for veggies and wraps that contains a good amount of protein and healthy fats.
Don't take my word for granted; try it for yourself to feel the creamy, sour, cool tzatziki sauce that makes an incredible complimentary taste to the hot and crispy vegan kebab.
Tahini Dressing
After the tzatziki sauce, the tahini sauce is probably the second most common option at most gyro and kebab places. 
However, tahini has an entirely different flavor, and unlike most nut butter, it isn't sweet. Instead, it has an earthy, strong nutty flavor and can be even a bit bitter.
Tahini is full of healthy fats, vitamins, and minerals. It is also packed with antioxidants, and some of its components are highly inflammatory. 
Humous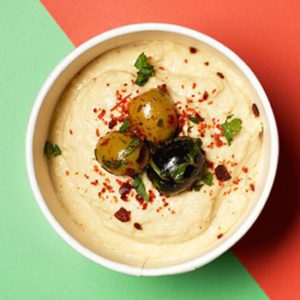 Hummus is a creamy, delicious famous Middle Eastern dip and an ideal condiment to add to a vegan kebab. 
The dip has a melt-in-your-mouth texture with a rich taste. While it is made with tahini, it doesn't have the same taste as a Tahini dressing.
It is not only a flavorful option for your vegan kebab but also super nutritious. It is packed with protein, vitamins, and minerals. 
Other impressive health benefits include helping fight inflammation, improving blood sugar control, better digestive health, lower heart disease risk, and weight loss.
This makes it the perfect addition to a delicious juicy vegan kebab!
Garlic Mayo
Adding a Garlic Mayo sauce to your kebab will add incredible flavor, moisture, and the overall texture, while forcibly enriching the taste of the vegan kebab.
Vegan Mayo is often better, and more nourishing than regular mayo - it is cholesterol-free, with fewer calories and healthier oils.
The rich, creamy, and fluffy taste of plant-based garlic mayo is infused with a rich garlic flavor, so if you're a garlic lover, you're absolutely going to love it! 
Chilli Sauce
Chilli Sauce is another delicious addition that you can add to various meals. It's sweet and tangy with a few sophisticated spices; it gets a unique flavor twist. Most kebab shops have chilli sauce as well.
It doubles as a condiment and a sauce and is excellent spread on kebabs or adding on top of some fries.
If you're a fan of the classic sweet and sour sauce, this is quite similar but with a delightfully spicy kick.
What The Pitta's Sauces For Vegan Kebab:
Believe it or not, you can find all those sauces at What The Pitta and have the best vegan kebab you can imagine!
All What The Pitta's sauces are 100% homemade and made with love, using the finest high-quality ingredients to give the best possible experience when enjoying your vegan kebab. 
From homemade Chilli, Tahini Dressing, or Garlic Mayo, you can always choose how much or how little sauce you want. It's the perfect option if you're looking for a kebab shop with chilli sauce!
Summary
If you are searching for huge, tasty vegan döner kebab near you, stuffed with plant-based meat, salad, and a wide range of delicious sauces, consider visiting What The Pitta (UK).
 No matter if you are a fan of spicy, creamy, or sour sauces, you will have all the options, and you can mix & match and get as much (or as little) as you want!