Vegan baklava is a delicious dessert that is easy to make at home, but if you don't feel like cooking it yourself or are just on the go, there are plenty of places to buy vegan baklava in London!
Living in London, I've been looking for the best vegan baklava near me for months now. Some of these places specialize in selling baklava and other pastry desserts. Others have vegan baklava on their menus as part of a larger selection of baked goods or even offer a full-service dining experience where you can enjoy your vegan baklava as a dessert after a vegan meal, like What The Pitta.
Let's start with the basics.
What is Baklava?
Baklava is a dessert made of buttered layers of phyllo dough filled with chopped nuts and sweetened with honey (non-vegan version) or sugar syrup (vegan version). Baklava is thought to be of Central Asian Turkic origin. The word "baklava" comes from Turkish börek, meaning "flaky pastry".
Different Types of Baklava: Which is Your Favourite?
There are many different variations of baklava found throughout the Middle East and South Asia.
The Greek version of baklava contains walnuts and is made with many layers of phyllo dough brushed in between with melted butter or vegetable oil. 
The cashew version is made with puff pastry instead of phyllo dough and traditionally, it has a filling of cashew nuts sautéed in butter, cinnamon sticks, cardamom pods and raisins. Cashews are popular in India where they are used often in sweets and desserts. They have a rich flavour that goes well with sweet spices like cinnamon, cardamom or cloves.
The "classical" Turkish baklava (non-vegan), known as saray baklavası ("palace" baklava) uses water buffalo milk to make the pastry dough, which results in a lighter texture and a more elegant presentation.
Central Asian baklava uses a very thin pastry dough, often called yufka (or "mana"). Yufka is made of flour and water, and then stretched out using a special tool. It's thin and crispy and can be used in many different dishes.
Nowadays, baklava is a popular dessert in many countries around the world. In addition to the Middle East, Greece, Turkey and the Balkans, you can find baklava in the United States and right here in London. You may have even had a different type of baklava than what we described here!
How Vegan Baklava is Made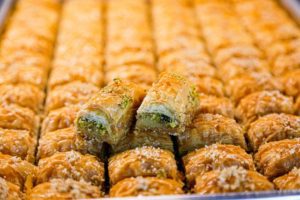 Phyllo dough (filo) comes in large, thin sheets that are rolled into tight coils and then layered for baking. When the pastry is ready to be eaten, it can be cut into smaller pieces. When baklava is prepared correctly, the melted vegan butter or oil and sugar syrup drip down through all levels of the pastry to create an irresistible treat.
Baklava is usually cut into triangles or diamonds (like the shape of the phyllo dough). Other common ingredients include almonds, walnuts, cashews, pine nuts or pistachios. Some recipes also add orange peel, rose water and cinnamon to give it a special flavour. If you want to make your own baklava at home there are many different ways to go about it but here are a few steps that you can use as a guide:
Cut a pound of phyllo sheets into quarters so that each section measures about 6 inches wide by 9 inches long.

Take one sheet of phyllo out at a time and brush lightly with melted vegan butter or olive oil

Lay down another sheet but this time fold it in half lengthwise so that each end overlaps slightly; repeat until all pieces have been folded in half — now you should have two layers stacked together with each end overlapping slightly from past folding (this will help keep your layers from becoming soggy when they come into contact with liquids like syrup during baking)

Make a mixture with your favourite nuts and distribute evenly over the top layer of phyllo. Continue assembling the baklava, one sheet of phyllo pastry at a time using another part of the phyllo. Again, brush each layer with a bit of melted vegan butter or oil.

Cut the baklava into pieces and place it on the middle rack of your heated oven. Bake anywhere from 35 to 45 minutes or until the top of the baklava turns golden and a skewer inserted in the centre comes out clean.
While in London, Try Some Vegan Baklava
If you're looking for some tasty plant based pastries to take back home with you after your trip around London, then make sure not to miss out on the opportunity to try some of these amazing places.
What The Pitta
What The Pitta has delicious vegan baklava — the reviews speak for themselves!
What The Pitta is located in Brick Lane, Camden, Brighton, Manchester and Croydon—so you'll be able to try our delicious vegan baklava wherever you are in London!
What The Pitta Vegan Baklava
Sweetland London
Sweetland London also has many flavours of vegan baklava. Their vegan baklava selection includes a variety of different types of fully plant-based baklava. They are made using vegetable ghee rather than butter ghee. They have many options of vegan baklava:
Vegan Almond Baklava

Vegan Finger Cashew Baklava

Vegan Coleschwor Cashew baklava

Vegan Walnut Baklava 

Vegan Boukaj Cashew Baklava

Vegan Pistachio Baklava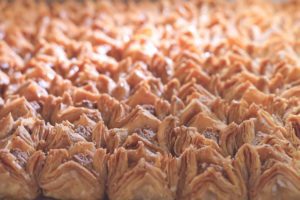 Vegan cashew baklava - Sweetland London
Baqlava London
Baqlava London is a sweet shop with premium baklavas, including one vegan option—a pistachio vegan baklava made with phyllo dough, vegetable ghee, syrup and pistachios. It is a sweet twist on the classic Turkish Baklava.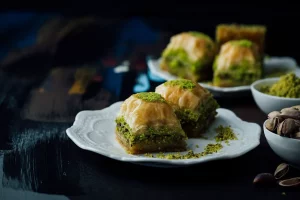 Vegan pistachio baklava - Baqlava London
Baklava is super popular in the Middle East and has been growing rapidly in popularity in London. Now it's easier than ever to find vegan baklava at your local bakeries and restaurants. Just be sure you know where they source their ingredients from, as some bakers use animal products when making these sweet treats.