If you're looking for vegan food in Brick Lane here are a few restaurants you need to know about.
First, don't be fooled by the name "Brick Lane." The actual bricks no longer exist—this was once the most famous open-air market in London. Second, it's not hard to find a vegan meal here — there are some vegan restaurants and many restaurants that offer vegan options on their menus. So whether you're looking for something simple or fancy, you can have anything from kebabs to burgers and beyond!
6. Vegan Yes
Vegan Yes serves organic homemade healthy vegan food, made from the fusion of Italian and Korean cuisines.
It was established in 2016 by Chef Mauro and his wife. Chef Mauro has the passion and curiosity to invent new recipes whilst his wife, Dr. Min, chooses ingredients that have high nutritional value and are healthy for the body and soul.
There are plenty of vegan foods to choose from. Fresh dishes are prepared every day including pasta and lasagne using innovative recipes such as vegan bolognese, kimchee, mushrooms and vegetables. 
Vegan Yes also offers various types of bruschetta, healthy potato dishes, kimchi bibimbap, ToppoGnocchi and their unique home-made vegan sausage. 
Vegan Yes is open Monday to Sunday, 11:30-21:00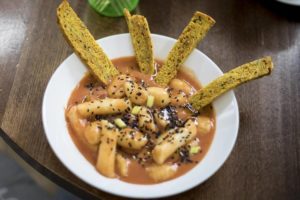 5. Mooshies
Mooshies is a vegan burger bar that serves up a selection of mouth-watering vegan burgers, fries and milkshakes. The staff are friendly, the food is delicious and you can sit back and relax while you eat.
The menu includes several options for burgers (including a black bean and corn burger), but it's worth trying the 'Double Mooshie' - two grilled seitan burgers in buns with lettuce, tomato and onion served with chips or salad if you prefer. If you're feeling adventurous, Mooshies also has some interesting twists on more traditional dishes such as their 'Sloppy Joe' which replaces meat with tofu soya chunks in a sauce made from tomatoes, red pepper paste, apple juice concentrate & brown sugar...it's tasty!
As well as being 100% vegan-friendly Mooshies also offers great deals on drinks too: besides classic soft drinks like Coca Cola, there's many alcoholic beverages available including wine by glass or bottle. And if you're feeling thirsty try one of their awesome milkshakes made with almond milk ice cream topped off with chocolate sauce & sprinkles!
Mooshies is open from Thursday to Sunday. It opens at 12:00 every day and closes at 22:00 on Thursday, 23:00 on Friday and Saturday, and 21:00 on Sunday.
4. Vegan Garden
Vegan Garden is a market stall in Brick Lane market. They offer salty and sweet vegan food, so they'll have something for you no matter what you're craving! 
Vegan Garden has a range of healthy salads, stews and tacos. They also have Gyozas, noodles, fried rice and stir fries. If you're looking for vegan curry in Brick Lane, this is the place — they have delicious Thai curries. Everything looks delicious, so the hardest thing will be to choose what to eat.
This restaurant closes during the wintertime, so make sure you go there before winter!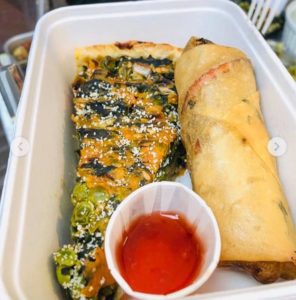 Vegan Garden opens only Saturdays and Sundays from 11:00 to 17:00.
3. The Vurger Co
Fancying a vegan burger in Brick Lane? Look no further!
The Vurger Co was born out of a desire to provide delicious plant-based burgers to hungry Londoners and beyond. They have hand-crafted every single burger with delicious vegetables taking the limelight! 
These aren't your average imitation meat burgers. All of the burgers at The Vurger Co are made from 100% vegetables, legumes, and spices. 
The Vurger Co celebrates great food made with passion. Everyone loves their soul-satisfying burgers!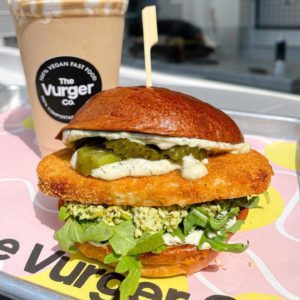 Opens everyday from 12:00 to 21:00.
2. Merkamo Ethiopian
Merkamo offers homemade vegan dishes with an Ethiopian twist. The award-winning team at Merkamo Ethiopian expertly combine traditional East-African cuisine, with a variety of original flavours to create dishes that are not merely 100% Vegan (and mostly gluten-free) but fresh and exciting too.
By fusing age-old Ethiopian cuisine with a unique selection of exotic herbs and spices, Merkamo provides Vegan food that is flavourful and nutritious.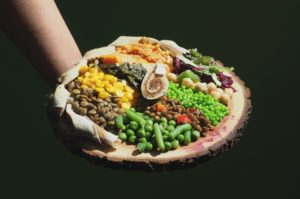 Merkamo opens 7 days a week, 11.30-5pm.
1. What The Pitta
If you feel like eating a kebab, What The Pitta will not disappoint! 
This vegan kebab place in Brick Lane will highly satisfy your taste buds and can trick meat-eaters into believing that they eat real juicy kebab!
You can choose between Chick'n Gyros, Falafel Wrap, or their signature Vegan Doner Kebab.
The vegan doner kebabs are always made with fresh homemade bread wrap, homemade falafel balls or marinated soya pieces, mixed salad, humous, tzatziki, and jalapeno peppers. 
You can choose as many or as few sauces as you want!
If you have more space, try their heavenly sweet desserts - Lemon Cheesecake and Caramel Cheesecake, or if you are in the mood for a sweet, light, airy dessert, try their amazing vegan Baklava.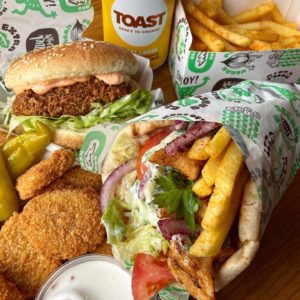 What The Pitta opens everyday from 12:00 to 21:00. On Fridays and Saturdays, it closes one hour later, at 22:00.
Are you in Brick Lane for the night? Don't Miss Out On Vegan Nights!
Vegan Nights is London's biggest and best plant-based food and lifestyle party. 
They launched in 2017 as a one-off night market and plant-based party but quickly had to turn Vegan Nights into a regular event to meet the demands of East London's insatiable vegan community.
Adopting a festival feel, the location of Vegan Nights currently stretches comfortably in excess of 50,000ft² of the Truman Brewery and boasts a huge outdoor food court and nightclub. With a curated line-up of around 40 food stalls serving a selection of plant-based street food, Vegan Nights really is the best place for lifelong vegans to socialise. Come for the food, stay for the (vegan) beer, DJs and authentic atmosphere.
Brick Lane: An Authentic Vegan-Friendly Paradise
All the restaurants we've talked about in the article are 100% vegan, but even if you choose another one, there's a high chance it will have a vegan option. So, we hope we've inspired you to try some new vegan dishes in Brick Lane! If you're ever in London, make sure to stop by, have something to eat, and enjoy an awesome vegan party at night!