If you're vegan, you've likely had the experience of being hungry when only the most un-vegan fast food is available. But the good news is that London's vegan fast food scene has never been better! Here are our picks for some of the best vegan fast food near you if you're in London:
What The Pitta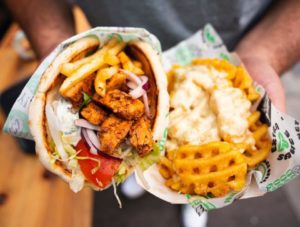 You can't go wrong with What The Pitta's falafel wrap, which includes hummus, red cabbage, pickled turnips and tahini sauce. All of their food is vegan — including kebabs and burgers! The wraps are a good choice if you're looking for something quick and affordable, but still relatively healthy.
The location is also convenient: What The Pitta has five locations in London, so you'll always find one close by no matter where your day takes you.
Club Mexicana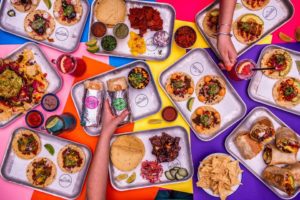 If you're a vegan who's spent any time in London, there's a good chance you've been to Club Mexicana—and if not, it'll be the first place you go when it comes time for dinner. This Mexican restaurant is right on Brick Lane and has been around since 2013. It's also an all-vegan establishment, which means no animal products were used in the making of its food or drinks.
Club Mexicana doesn't just offer burritos and tacos: they have everything from nachos to quesadillas made using vegan cheese instead of dairy products from cows' milk. If you're feeling adventurous, try one of their cocktails like The Oaxacan (made with mezcal) or El Bandito (tequila and lime juice). If that sounds too strong for your liking then opt for something milder like a margarita instead!
Temple of Seitan
Temple of Seitan is a vegan fast food restaurant located in the Camden Town section of London. They serve burgers, wraps and chick'n products like fillets and nuggets. Their menu also includes desserts such as the Biscoff milkshake.
Purezza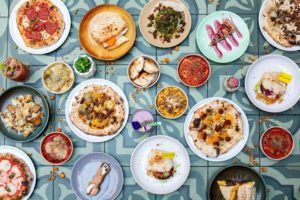 Purezza is a vegan pizza place that's also right on the top of many best restaurant lists. It's located in 5 different places in London and has a lot of options to choose from. Whether you want to get a pizza or pasta or other Italian dishes, it's got you covered.
While their pizzas are the star attraction here (and they really are incredible), you can also get pastas, salads and desserts at Purezza. If you do visit this place though, make sure you try out their amazing vegan cheese!
Mildreds
Mildreds is a vegan restaurant that also has many locations in London. It has an all-vegan menu that will make you want to visit again and again! The menu is huge, offering everything from burgers and wings to pizza, sandwiches, and salads. Their selection of desserts also deserves special mention—the vegan cheesecake (which they make themselves) is particularly delicious!
The atmosphere at Mildreds is fun and friendly. It's the perfect place to grab lunch with friends or meet up with your favorite coworkers after work.
Itadaki Zen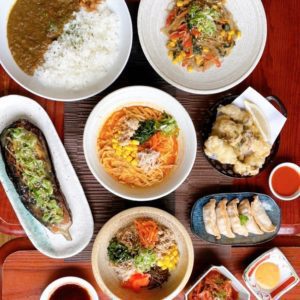 Itadaki Zen is a Japanese restaurant that's also vegan, but it's the gluten-free part of the menu that makes it stand out. This means that you can enjoy a delicious range of Japanese food without any concerns about whether or not your dish contains gluten.
The most popular dishes here are sushi rolls, which come in all sorts of combinations and include everything from avocado to pickled ginger on top. You'll also find tofu noodle soups here as well as rice bowls with grilled vegetables and seaweed salad. If you're looking for something sweet, don't miss their matcha chocolate cake!
Eat Genesis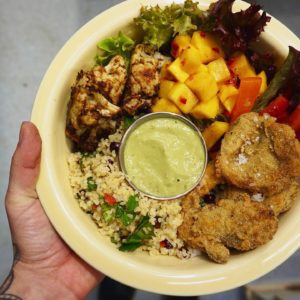 If you're looking for a quick bite and want to try some vegan fast food, Genesis is the place to go. The restaurant is located on Aldermans Hill, north London. The staff are super friendly and will go above and beyond to make sure you enjoy your meal! 
There are lots of vegan foods to try on the menu here, from nachos with guacamole to middle eastern bowls and shawarma.
Loving Hut
Loving Hut is the UK's first vegan chain restaurant, with locations all around London. The menu boasts a variety of healthy dishes that are free from animal products, including soups and salads, burgers and sandwiches—all made fresh to order.
If you're looking for fast food that's quick and tasty but also cruelty-free then Loving Hut is definitely worth checking out.
Biff's jack shack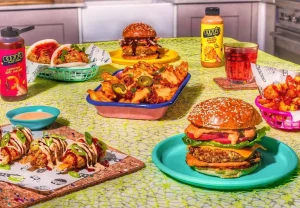 Biff's Jack Shack is a vegan fast food restaurant in London, Brighton and Manchester. Biff's serves a variety of burgers, hot dogs, sandwiches and wraps with all vegan ingredients. The concept of Biffs is to make healthy tasty plant based food at an affordable price point.
Rudy's Vegan Diner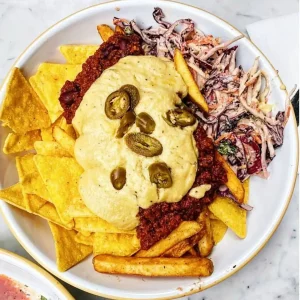 Rudy's dirty vegan diner is a restaurant in Shoreditch that serves sandwiches, hot dogs, burgers, salads and more. 
They have a great selection of side dishes and desserts, and even include an all-day brunch on their menu!
They also do takeaway, which makes this place perfect for when you're in a rush or just fancy getting some food on the way home from somewhere else! The staff are friendly, too - if you're ever lost for words while ordering (it happens to the best of us), they'll help you out by asking what kind of mood you want to be in when eating your meal. Food is always served piping hot at Rudy's so there'll be no waiting around until it cools down!
Vegan fast food is becoming more popular in the UK
Vegan food is becoming more popular in the UK. There are so many more options now, and it's not just limited to a few restaurants in London. Vegan fast food restaurants are popping up all over the country, and they're getting high ratings! If you're looking for healthier, greener and cheaper meals, then you should definitely give them a try.
You can find vegan fast food everywhere from Brighton to Birmingham! You don't have to travel far or make reservations at fancy restaurants either; there are plenty of places that serve only vegan dishes on their menus.
With so many options to choose from, you can be sure that there will always be a vegan fast food restaurant in London for you. Whether it's the best tacos and burritos you've ever tasted or an unforgettable pizza topped with fresh veggies, there is no shortage of delicious food to eat on the go.