So you're in Brighton and looking for a meat-free meal to enjoy before spending your evening on the Brighton Pier. That's great because you are making an ethical and environmentally conscious choice, and you'll also be able to enjoy delicious and healthy food. From sushi and pizzas to kebabs and burgers, Brighton has it all. So in no particular order, here are 5 recommendations for the 5 best vegan restaurants near Brighton Pier.
Situated only 10 min away from the Brighton pier is No Catch. This vegan business wants to challenge the traditional model of British fish and chips shops. Over 2 trillion fish are caught and killed yearly for food. And when fish populations decline, it affects the entire planet.
And you don't have to give up on the traditional British Fish and Chips because here you can find Vegan cod & chips, Smoked vegan haddock, umbo battered saveloy and much more fish-free delicious food. So, try No Catch next time you're in Brighton and crave some fish and chips that do not cost the oceans.
Vurger Co started with the goal of making delicious, high-quality vegan food more accessible. They began as a small market stall in 2016 and have grown to operate multiple restaurants in various locations, including Brighton. Vurger Co specialised in 'meat-like' patties from their 'pork' to 'beef' made in their east London kitchen.
So here, you can find a BBQ 'Pork' burger ( a sausage style 'pork' topped with vegan smoked gouda), New York Melt ( beyond meat patty, topped with double vegan cheese), Buffalo Vurger ( a crispy 'chicken' patty dipped in hot buffalo sauce and topped with vegan mozzarella) and plenty more vegan burgers to feed your soul.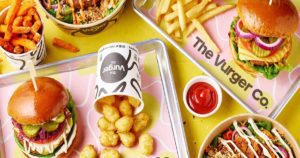 We couldn't forget ourselves, could we? Our Brighton branch is only a 4 min walk from the Brighton Pier; with such a great diversity in vegan cuisine, we had to bring our Turkish vegan kebabs too.
On top of already hugely popular döner kebabs and vegan gyros, we have also upgraded our falafel game. You can now get a falafel bowl, falafel wrap or a falafel pitta!
We've also teamed up with the local brewery' Lost Pier Brewing' so you can enjoy your vegan doner kebab with a local Paddleboarder Pale, Beach session IPA, APA, and many more.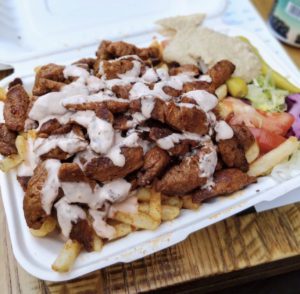 Much like the No Catch, Happy Maki was founded to raise awareness about the negative impact of consuming fish on the environment and public health. The founder, Anna, wanted to prove that sushi could be delicious and sustainable without using fish.
Happy Maki has a diverse menu where you can find sushi burritos with hoisin duck, beet & basil satay, sweet chilli chick or the rainbow roll.
Also, if you need one more reason to visit them, here's one, for every sushi wrap you buy, Happy Maki donates even pence to Marry's Meals to feed a child in hunger!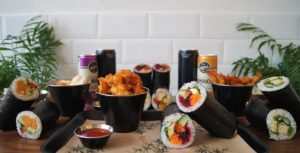 Brighton has many great options for vegan food, and one of them is Purezza. They are the pioneers of vegan pizza, being the first plant-based pizzeria in the country.
They stand out for their unique vegan mozzarella made with brown rice milk and offering gluten-free bases, wholegrain sourdoughs, and a variety of toppings that will make your mouth water.
You can find salmon & cream cheese ciabatta, slow-cooked meatballs, courgette spaghetti, and lasagna here. Also, they have a range of unique cocktails and locally sourced gin. If you're a vegan visiting Brighton, Purezza should be on your list of places to visit.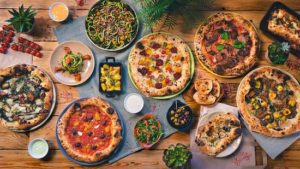 Brighton offers a variety of delicious and healthy vegan options for those looking for a meat-free meal before spending their evening on the Brighton Pier. There is something for everyone, from sushi and pizzas to kebabs and bur- gers.
Whether you're looking for vegan fish and chips, meat-like patties, or delicious sushi wraps, these 5 vegan restaurants near Brighton Pier will impress. So next time you're in Brighton, check out No Catch, Vurger Co, What the Pitta, Happy Maki and Purezza for a genuinely satisfying and ethical dining experience.