The sun may be playing hide and seek with us, but we're confident it will make an appearance just in time for us to hit the road on our big festival food tour this summer. We'll be serving up delicious vegan kebabs that are sure to satisfy your festival food cravings. 
From music and arts to beer and foodie events, we'll be bringing our A-game and serving up delicious vegan kebabs that are sure to tickle your taste buds. Whether you're a vegan or just love good food, our festival food tour has something for everyone. So, without further ado, here's a list of the festivals where you can find our award-winning vegan kebabs this summer:
Looking for a thirst-quenching adventure with a side of vegan kebabs? Look no further than Bianca Brewery, the home of some of the most tantalisingly delicious craft beers in all of SE London!
Their Bermondsey-based brewery is a temple of taste, where passionate brewmasters carefully craft every batch to perfection, infusing each sip with a symphony of complex flavours and aromas that will leave you craving more.
From mouth-watering pale ales to crisp and refreshing lagers, Bianca Brewery has it all! And on the 28th and 29th of April, you can sip away while feasting on some vegan gyros. Trust us, your taste buds will thank you for this unforgettable experience and we can't wait to see you there.
Additional dates will be added so keep and eye on our socials!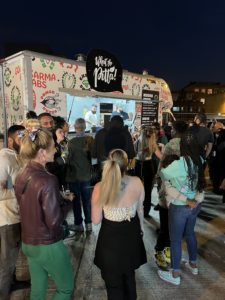 If you love plant-based food, alcohol and top DJs, then Vegan Nights is an event you cannot miss! Vegan Nights was launched in September 2017 as a one-off night market and plant-based party at the Truman Brewery on Brick Lane. The event surpassed all expectations as almost 3,000 people turned up at the 500-capacity venue. The overwhelming response encouraged the organisers to turn it into a regular event. 
The event boasts a large outdoor food court and nightclub, with around 40 carefully curated food stalls serving the biggest and best selection of plant-based street food. It has become a must-visit destination for vegans and non-vegans looking for a unique and delicious night out. What The Pitta has been a regular partner, and we make sure not to miss any vegan nights. So if you're up for some bass, 'bab's and beer, make sure to come down to Vegan Nights on the 4th of May & 13th of July.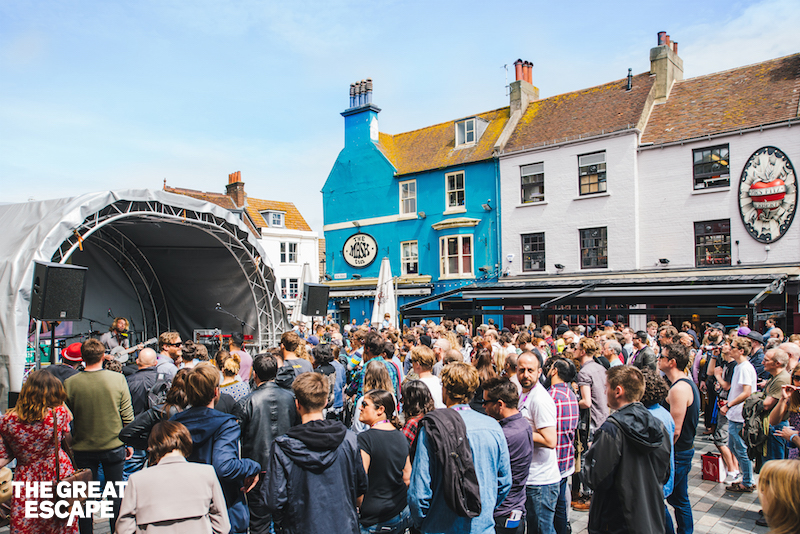 Looking for an electrifying music experience that will leave you feeling invigorated and inspired? Look no further than the ultimate festival of the year - a dazzling showcase of over 500 up-and-coming artists from all over the world!
Prepare to be transported to a world of pure auditory bliss as you explore more than 30 sensational venues scattered throughout Brighton city. And the excitement doesn't stop there! Picture yourself grooving away while basking in the glorious sun on Brighton Beach with a vegan kebab in hand… It doesn't get better than that!
Calling all foodies and music lovers - get ready for the ultimate plant-based party of the year! The Vegan-Friendly Market is the place to be for anyone who wants to indulge in the best vegan food and lifestyle offerings around.
Get your taste buds ready for a mouth-watering feast of delicious, cruelty-free delights… But the fun doesn't stop there! Bring the whole family and let the kids join in on the action with a variety of kid-friendly activities that will keep them engaged and having a blast. And when hunger strikes, don't miss out the classic vegan döner gyros that everyone is raving about!
Join us in the vibrant heart of Shoreditch (London) on the 24th and 25th of June for a plant-based extravaganza. Get ready to immerse yourself in a world of flavor, music, and fun at The Vegan-Friendly Market!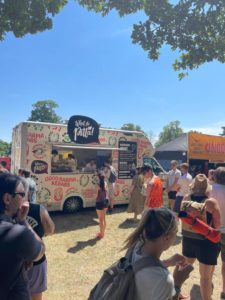 Vegan Camp Out is the largest vegan camping festival in the world. It has a truly international feel, with campers from over 40 countries in attendance each year! The event spans over four days and three nights, featuring camping, live music, talks, after-parties, yoga/meditation classes, workshops, and of course, What The Pitta will be there too! 
This year it's going to be another mad one, with special guests like Romesh Ranganathan, BOSH! , Sam Ryder, Patrik Baboumian and plenty more.  
This year, the festival boasts a whopping 60 vendors, making it the largest selection of vegan food in UK history! Plus, if you're gluten-free or prefer raw options, there will be plenty of choices for you too. Don't miss out on this fantastic event; book your tickets today and get away for a few days!