If you want to enjoy vegan food by a beautiful beach, then Brighton is the right place for you. Here's a list of 7 amazing vegan bars and restaurants to enjoy whilst in Brighton. It's a great place, and we love taking a trip on the pier – but where are the best vegan restaurants in Brighton?
The Roundhill is a vegan restaurant in Brighton, situated on Ditchling Road. Of course, all of the drinks are vegan, so there's no confusion when trying to order the huge array of cocktails they offer! On top of the amazing vegan food they offer, The Roundhill hosts quizzes and live music to keep the real community vibe they go for! If you're a fan of plants, you'll love this gastropub as it's filled with nature, large windows and exposed wood which gives off a great conservatory vibe!
Address: 100 Ditching Road BN1 4SG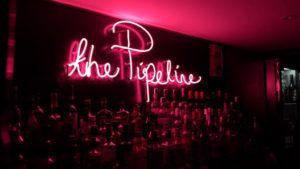 The Pipeline is an independent vegan rock joint, displaying a huge beer garden at the front, making it the perfect bar to go to on a sunny day with friends! The bar is lit up with neon lights, pinball machines, a jukebox and a wide-screen TV that you can watch the football on once you've chosen from the vast range of spirits and beers. If you have a party to plan, there's also a private hire room upstairs!
Address: 6 Little E St BN1 1HT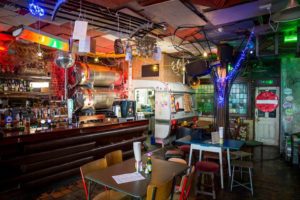 The Hope and Ruin is a pub and live music venue with an amazing variety of craft beers along with wines and spirits. In the live music venue upstairs, there is usually a band playing or Hope and Ruin will host events like Ink mathematics quiz nights, CULT MILK arts nights, DJ nights, jumble sales, clothes swaps, and more. The vast majority of drinks are vegan, but be sure to check before you order!
Address: 11-12 Queens Rd BN1 3WA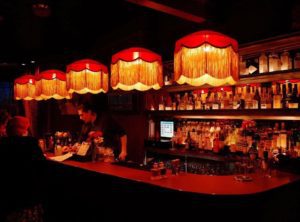 Not to be confused with the fashion brand, Valentino's serves a wide range of delicious cocktails from classic martinis to a whiskey-based cocktail called "Damn the Rules" which contains Rittenhouse Rye whiskey, Lacuesta Rojo, vermouth, grapefruit juice, and raspberry syrup.
Address: 7 New Rd, Brighton BN1 1UF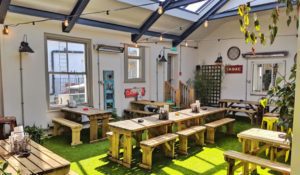 The Walrus is the perfect place to go and chill after your long day out as it's a stone throw away from the beach with well-decorated rooms, a two-storey roof garden, with an open fire, snug, and booths on the ground floor.
This is a great place to go if you have a large party of people, but they also accommodate those on a date or are having an intimate catch up with friends. You can pull the tables together or have something a little more private!
Address: 10 Ship St, Brighton BN1 1AD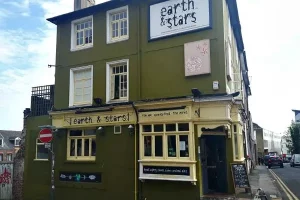 If you're earth-conscious, you'll love Earth and Stars as they draw their electricity from the roof with solar panels. How many bars can you name that do the same thing?! Come and choose from their stock of organic ales, lagers, and wines. If you go during the day time in the week, it'll be a more chilled out vibe but it gets livelier in the evenings and on the weekends. And if you're looking for a pub with a more classic interior, this is the place.
Address: 46 Windsor St BN1 1RJ
Now after all that drinking and dancing, you're probably going to be hungry, and that's where we come in…
What the Pitta! Is located in the North Laines, one of the most popular locations in Brighton for vegan food. Come here to try vegan versions of the traditional döner kebab dishes you know and love. These include wraps, a Mezze box, döner and chips box, and vegan baklava. Also, WTP is a great place to grab a vegan beer by Lost Pier alongside your vegan döner kebab.
The chain's mission is they believe that eating meat-free foods more often can have a huge benefit on our health and the environmental impact on the planet.
Address: 14 East St, BN1 1HP
You're all set for the best evening in Brighton, but if you need a little more inspiration for the rest of the day; we recommend you check out The Royal Pavilion, Brighton Palace Pier, Globalls, and Preston Park.
And if you're a beer lover, you'll love our list of vegan beers for 'drinking responsibly'.