Doner Kebabs have, almost quietly, become one of the most culturally important foodstuffs in Britain. For so long seen as the aftermath of a drunken night out. Thankfully in the last few years they have been enjoying a deserved renaissance. Like curry before it, the prevailing narrative that kebabs are nothing more than a greasy midnight snack, is changing. Kebabs are, finally, taking their rightful place in our rich and multicultural food landscape. But what actually is a doner kebab? Further to this can 'What the Pitta!' the UK's first exclusively vegan kebab shop really claim that their vegan version is a true doner?
What is a Doner Kebab?
The more you read the more confusing it gets. A doner, it seems, can be many things to many people. From England to Turkey (and beyond) doners vary in nearly every element. In many countries, for example, they use beef instead of lamb. In Romania they put chips and sauerkraut in, rather than red cabbage and jalapenos. Rather than the British mainstays of chilli and garlic mayo in the Netherlands they pour a Gouda and sambal over their kebabs. In Turkey they barely use sauces at all!
That's not even getting on to the different carbohydrates they are served with. From flatbreads to pitta, from naan to humble rice. The variation is potentially endless. But how can you cut through the elephant's leg and begin to define something which is almost infinitely adaptable?
I started my investigation as simply as possible. I googled the translation of 'doner.' 'Döner' means 'Rotating' in Turkish. Step one complete I thought- You can define a doner by how it is cooked; on one of those magical rotating mechanisms, which manages to char the outside so perfectly, yet leave the interior beautifully juicy. However, this proved to be a red herring, as it is not the only dish that is cooked on those glorious twirling grills. Greek gyros and Arabic shawarma are both cooked using the same method, and to an untrained eye are nearly identical to a doner. Indeed, like doner, the words gyros and shawarma also translate as 'rotating.'
In the name lies the difference, and the answer to the doner riddle. Gyros and shawarma may well share the same cooking method as the doner and indeed be descended from the doner, but they are both very much products of their respective food cultures. Gyros, in line with Greek culinary tradition, tends to use more dried herbs, like oregano or thyme, and fewer spices. It also is traditionally served with tzatziki. Shawarma, on the other hand, tends to be much more heavily spiced and fewer sauces are used. There is inevitably overlap in techniques, but these identifiers work as a rule of thumb.
Doner, as previously mentioned, is a Turkish word and its heritage is directly tied to Turkish food culture. Indeed, that is one of the reasons why it is so indefinable. The adaptability of the doner is an extension of the great 20th and 21st century success story that is the integration of the global Turkish Diaspora.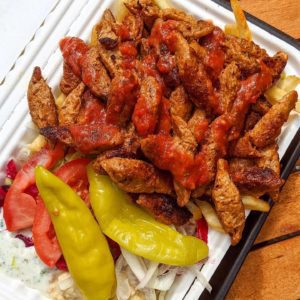 You don't need to speak fluent Turkish to understand a doner, nor do you need to know your Antakyas from your Antalyas. What I think you absolutely do need is a love and respect of Turkish food, whether that food is made in Istanbul or Ickenham.
This is why, in my view, a 'What the Pitta!' vegan doner is a true doner kebab. It may not be cooked on a twirling vertical skewer, or contain meat, but in staying true to the adaptability of topping, fresh bread and and flavours of traditional Turkish cooking it stays true to what a doner kebab really is.
Ned Sedgwick is a writer and podcaster.  He co-hosts the BBC's GrownUpLand podcast and is question writer and pedant-in-chief for the Global Pillage podcast, a comedy panel show about culture and diversity.  He is working on a history and recipe book of kebabs called 'Under the Elephant's Leg'
Follow him on Instagram @kebabsabs and @nedsedgwick on Twitter