The plethora of vegan delights in fun-filled Brighton make it a little different to the rest of the nation's seaside escapes. Forget fighting over fish and chips with seagulls or scowling at the price of an ice cream cone: Brighton has ripped up the rulebook with a vibrant vegan revolution. The stylish seaside town is held in high regard for its vegan and vegetarian options, and that means that whether you're local to Brighton or simply visiting, you're spoilt for choice.
Gorge on delicious vegan donuts and get your chopsticks at the ready for fish-free sushi. How do vegan curries, cafes, and cocktails sound? What about meat-free pub grub, pints, and vegan pizzas? Or maybe you prefer delicious vegan gelato on Brighton Palace Pier? In today's post we're going to tell you how to eat, slurp, and shop your way through town. But that doesn't mean we'll ignore the city's must-visit-attractions either. Besides, who comes all the way to the seaside and skips visiting our What The Pitta Brighton branch?
Vegan Vibes & Brighton Bites
Brighton has a buzz and a naturally quirky vibe, and it's reflected in its incredible array of innovative snacks, sit-down meals, cafes, and even gastropubs – many of which are free from any animal products. There's an astounding pool of vegan outlets to choose from in the seaside town, but these are our favourite places to sample, snap, and taste all things plant-based.
What The Pitta
Who? Us? Ah, go on then! If you've already been to visit us in Brick Lane, Camden, Croydon, Brighton or Manchester, then you already know the drill. And if you haven't, then what have you been waiting for?! We're a cult favourite for a reason, and our Turkish-inspired vegan treats are made for meat eaters, vegetarians, and vegans alike. Whether it's mouth-watering vegan baklava or our famous vegan döner kebabs, you'll find all the meat-free goodness you're looking for in our sunny new Brighton store. Everything we wrap is made with a whole lot of love and nothing but plant-based products.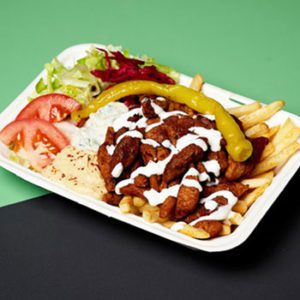 Purezza
But that's not to say that we're the only showstoppers in town. In fact, Brighton has so many excellent vegan options it's difficult to know where to begin. So let's start with Purezza, the vegan pizza trendsetters. This team are the country's first plant-based pizzeria and there's nowhere else like it. It begins with the vegan mozzarella, a creamy concoction created with brown rice milk. Then there are gluten-free bases, wholegrain sourdoughs, and all kinds of tempting toppings – and that's just the pizza. Pastas, cheese platters, and salads are all vegan too and, importantly, they're delicious. A must visit for any vegan visiting Brighton.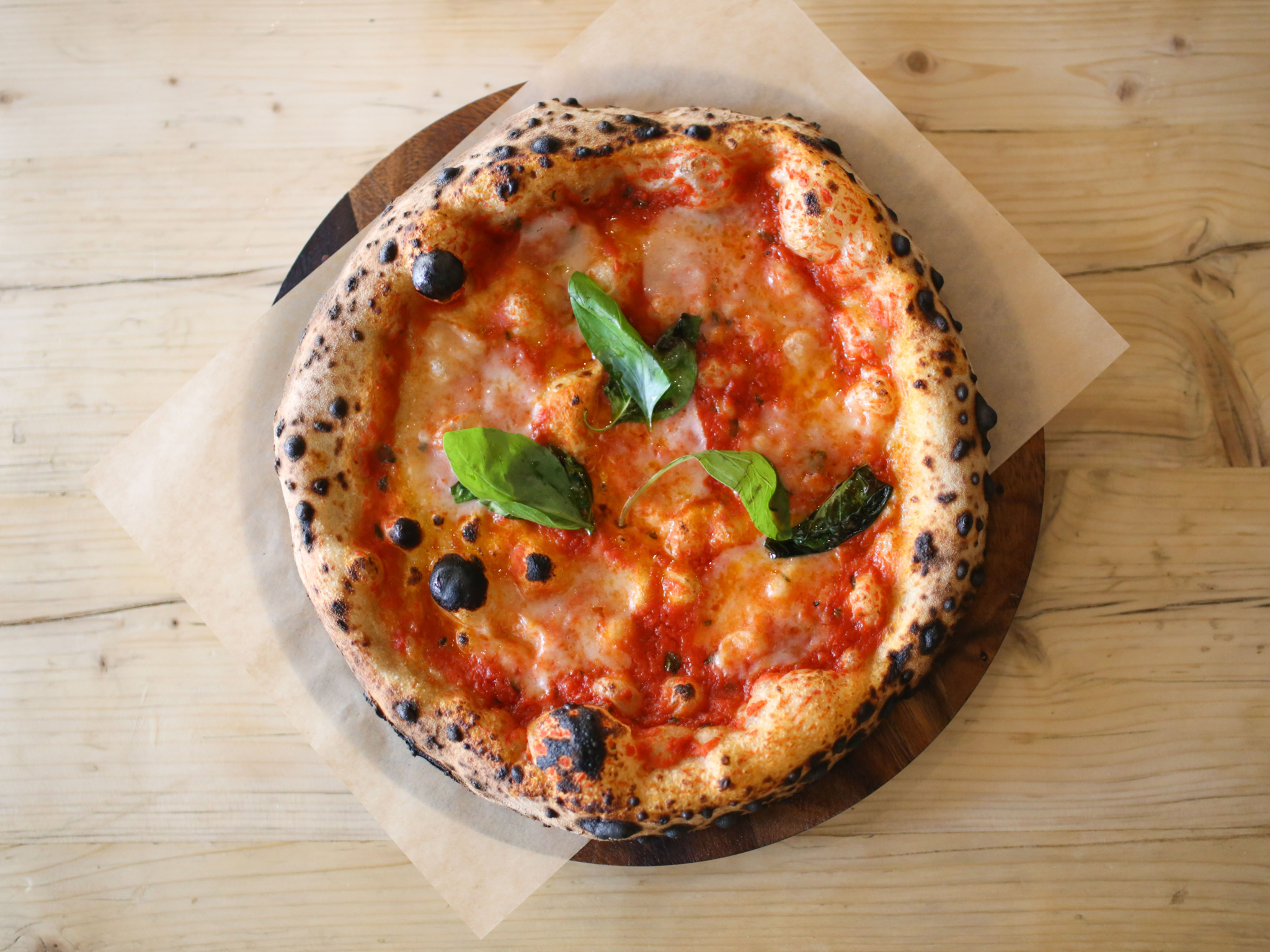 Food for Friends
For something more formal, you can't go wrong with Food for Friends. Especially since it's an award-winning vegetarian restaurant that's turned the heads of many meat-eaters in the past. Food for Friends is an institute that aims to show meat-eaters how tasty (and easy) plant-based food can be. Since 1981, they've set out to provide "tasty, affordable, honest cooking using the freshest produce, totally homemade, whilst supporting local suppliers where possible." What more can you ask for?

Happy Maki Sushi
Next up is Happy Maki. While we've mastered the Turkish-inspired treats in a wrap, the Happy Maki team have focused on plant-based sushi in a wrap and boy have they nailed it.The vegan sushi burritos are a genius combination, and you'll soon see why. Over-the-counter service is specific to your order, and the burritos make for a fresh, colourful, and super-healthy lunch meal. And, to make things even better, they'll plant a tree for every order placed. You're saving the planet just by stuffing your face with goodness.

The Lanes & Terre à Terre
It's all been a little heavy so far, hasn't it? So let's break it up with some shopping. The Lanes used to be the central hub of Brighton, and it's one of the oldest neighbourhoods in town. This gives it a more traditional feel and there's plenty of atmosphere down the windy old lanes and alleyways. You'll find an eclectic mix of bakeries, craft shops, boutique stores, bars, and of course, a few tasty vegan treats. Food for Friends is conveniently located for a visit to the Lanes, but just one street along you'll also find Terre à Terre, another famous award-winning vegetarian haunt that has an impressive selection of vegan plates for every palate. If you're struggling to choose between the two, then visit Food for Friends when you're in The Lanes, and visit Terre à Terre on a separate trip to the unique Royal Pavilion just around the corner.
Gastropubs & Bars
The Hope And Ruin
It's about time we mentioned something less formal, isn't it? There's an astonishing amount of vegan bites in Brighton pubs as well – and the Hope and Ruin is top of the lot. That's partly due to their partnership with Beezlebab. This imaginative team specialise in your 'vegan junk food fix' and, ironically, there's nothing trashy about it. If you can find your way through the super-cool kitsch décor and lighting, you'll find a menu filled with vegan hot dogs, burgers, chilli, pastas, and more.
The Prince George
Let's stick with the pubs, because the Prince George can't be missed! Sure, it's a lively and energetic place for a few drinks, but with an entirely vegetarian and vegan menu, you'll get on-point Mexican-inspired pub grub without a dash of guilt. For something slightly more upmarket, The Roundhill is the creative and contemporary gastropub for you. The menu for this outstanding outlet changes regularly, and depends on whatever's currently in season. And, naturally, it's all plant-based.
Vegan Cafes and Caffeine Hits in Brighton
You'd be drowsy after chowing down on so much heavenly food: a shot of caffeine should help.
Infinity Foods
But first, stock up in Infinity Foods. You'll discover an organic shop overwhelmingly filled with all the vegan essentials, natural foods, and fresh produce you'll need for cooking and baking at home. And once you've stocked up on wholesale goods, head next door to their conveniently-located café and bakery, where you'll struggle to choose from the seemingly endless variations of delectable vegan cakes and treats. After that sugar hit, top up with a much-needed coffee.
The Longhouse Cafe
Super-cool Longhouse Café is also 100% vegan and they too source their ingredients locally. The community-focused institution offers small plates, cakes, and even pancakes (both savoury and sweet). You can even buy artisan ceramics as well. Friendly staff and a relaxing atmosphere make it a great place to catch up on work or spend time with friends.
Glazed – Next Level Donuts and Coffee
Speaking of something sweet, we've saved another exclusive vegan treat for the end. Glazed is a much-loved vegan bakery specialising in completely vegan donuts which are actually stocked at What The Pitta too! Found just around the corner from The Longhouse Café, you won't believe how many flavours of vegan donut are on offer. From bacon and maple syrup all the way to lotus Biscoff and Oreo, there's a ring of sugary satisfaction awaiting you. Say hi to the resident (and adorable) dog Donald for us.
Brighton Palace Pier and Beach
Yes, yes – we know. All these recommendations and we haven't even mentioned the famous Brighton Palace Pier yet. This landmark walkway stretches an astonishing 0.5km into the English Channel, and it's stuffed full of amusements, concessions, and arcades for some old-school British seaside fun. But we haven't let our vegan guard down, even when we're keeping it conventional. We always recommend whiling away a few hours on the famous Palace Pier and on Brighton's brilliant sandy beach (an incredible 5 miles long) – but do so with some unforgettable vegan gelato in hand. Boho Gelato may be queued out the door, but it's worth the wait. We promise. There's a fantastic selection of vegan ice creams all the way from the downright weird to the wild and wonderful (mango and chilli, anybody?)
Melt into the seaside with your guilt-free cone and look back on a trip well spent, enjoying all of the very best vegan goods that Brighton has to offer. Use the handy map below to fulfil all your bright vegan needs!
Going to Shoreditch as well? Find our list of the best vegan restaurants in Shoreditch!